In coordination with the Cyber Bytes Foundation, GENEDGE is hosting CMMC Industry Day. Join JANUS, industry leaders, and businesses as we gather to share ideas, resources, and best practices for navigating Cybersecurity Maturity Model Certification (CMMC) compliance.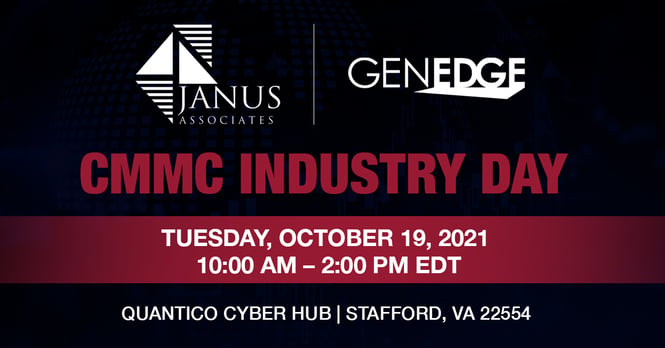 The Department of Defence (DoD) is migrating a new CMMC framework to enhance the cyber security posture of the Defense Industrial Base (DIB) sector. DFARS Clause 252.204-7012 and NIST 800-171 cyber security requirements are no longer voluntary. DoD audits, coupled with the Cybersecurity Maturity Model Certification (CMMC), will require all companies conducting business with the DoD to be certified by a third party.
Achieving compliance with all 110 requirements of CMMC is a daunting task. JANUS has a practical way that follows proven methodology to help you achieve CMMC Certification. Contact us to help you reach your CMMC compliance goals.
Watch JANUS, President & CEO, WEBINAR on CMMC

In this video, learn to meet new cyber security requirements to help make your business more competitive and eliminate crash implementation needs. Hear from Patricia Fisher, CEO & President of JANUS Associates, with over 32 years of expertise in security, privacy, and compliance matters, as she talks about key areas of change and how the new CMMC regulations will affect all businesses and their subcontractors that have DoD contracts.
---
Let us know if you're also attending the IAPP P.S.R. 2021 Conference and connect with us online today @JANUSAssociates.
Date: Tuesday, October 19, 2021
Time: 10:00 AM – 2:00 PM EDT
Location: Quantico Cyber Hub, 1010 Corporate Drive, Stafford, VA 22554
See Full Details
Speak with JANUS
Consider having a conversation with JANUS, a security organization that has deep expertise and understands the challenges that companies face today. With 32+ years of experience, JANUS Associates can help you meet your security, privacy, and compliance goals. Connect with us today.