Here are the highlights from this month's events as we join a growing national effort to spread awareness of cyber security and privacy in an increasingly connected world.

What is Cybersecurity Awareness Month?
It's a month-long event that sheds light on security vulnerabilities while offering actionable guidance around our behavior online for anyone to protect themselves and their organizations. We all have a responsibility to do our part in securing our interconnected world.

Connected devices have been woven into society as an integral part of how people communicate and access services essential to their well-being. Despite these great advances in technology and the conveniences this provides, recent events have shown us how quickly our lives and businesses can be disrupted when cybercriminals and hackers use technology to do harm.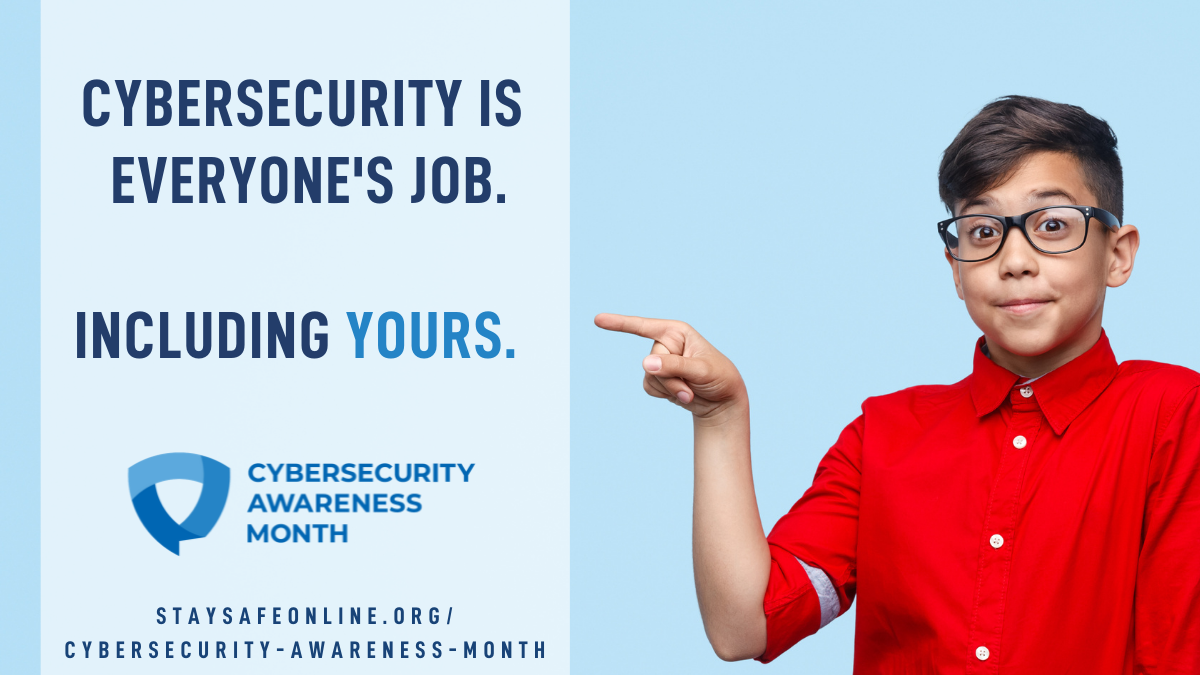 For its 18th year, Cybersecurity Awareness Month continues to build momentum and impact with the ultimate goal of providing everyone with the information they need to stay safer and more secure online. The Champions Program is a collaborative effort among businesses, government agencies, colleges and universities, associations, nonprofit organizations, and individuals committed to the Cybersecurity Awareness Month theme of 'Do Your Part. #BeCyberSmart.'

This year, the main weekly focus areas will be:
Understanding and implementing basic cyber hygiene, including the importance of strong passphrases, using multi-factor authentication, performing software updates, and backing up data.
Recognizing and reporting phishing attempts whether it's through email, text messages, or chat boxes.
Empowering individuals to not only practice safe online behavior, but consider joining the mission of securing our online world by considering a career in cybersecurity!
Making cybersecurity a priority in business by making products and processes "secure by design" and considering cybersecurity when purchasing new internet-connected devices.
Upcoming Security & Privacy Events
JANUS Associates is proud to support this far-reaching online safety awareness and education initiative which is co-led by the National Cyber Security Alliance and the Cybersecurity and Infrastructure Agency (CISA) of the U.S. Department of Homeland Security. Our team is participating in the following privacy and security events happening this month:
October 19 | CMMC Industry Day 2021
In coordination with the Cyber Bytes Foundation, GENEDGE and IntelliGRC are hosting CMMC Industry Day. Join JANUS, industry leaders, and businesses as we gather to share ideas, resources, and best practices for navigating Cybersecurity Maturity Model Certification (CMMC) compliance. See Full Agenda
October 20-21 | IAPP Privacy. Security. Risk. 2021
This year, you'll find us located at booth #305! Meet the JANUS Associates team and other privacy professionals today by reserving your spot at P.S.R. 2021 in San Diego, California. See Full Agenda
Find CYBER Resources Online
Any employee or contractor with access to your organization's confidential data poses a risk and knowledge of internal systems can help the insider escape detection. Whether it's an intentional malicious attack or unintended negligence, these threats can result from policy violations or access control misconfigurations that allow elevated system access to trusted employees.
These activities often persist undetected for extended periods of time and occur in all types of work environments, from small businesses to enterprise-level operations. So what can you do to protect your organization? It all starts with security awareness, get the guide below.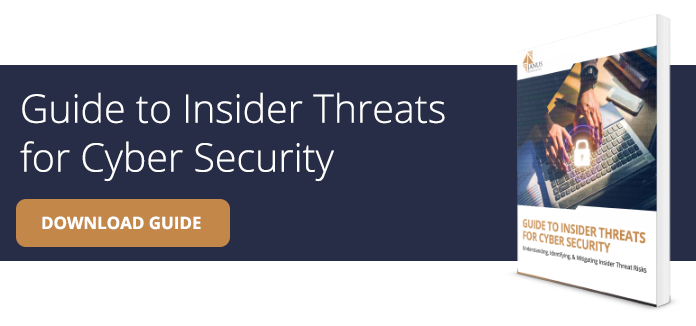 The Federal government has enacted a new requirement that almost all businesses must meet to contract with the DoD. This new Cybersecurity Maturity Model Certification (CMMC) qualification must be met by most providers of products/components and/or services for the DoD at ANY subcontracting tier.
Learn to meet new cyber security requirements to help make your business more competitive and eliminate crash implementation needs. Hear below from Patricia Fisher, CEO & President of JANUS Associates, with over 32 years of expertise in security, privacy, and compliance matters, as she talks about key areas of change and how the new CMMC regulations will affect all businesses and their subcontractors that have DoD contracts.

Failing to recognize the real threat posed by ransomware can lead to being the target of a cyber attack. Municipalities, law firms, health care facilities, and small/medium businesses are prime targets for ransomware attacks. Why?

Because, unlike enterprise-size organizations, small and midsized entities typically don't have the financial and staffing resources necessary to prepare for or fight off an attack—but you are not defenseless. There are plenty of actions you can take now to lower your risk. Learn how to reduce your risk footprint by downloading the guide offered below.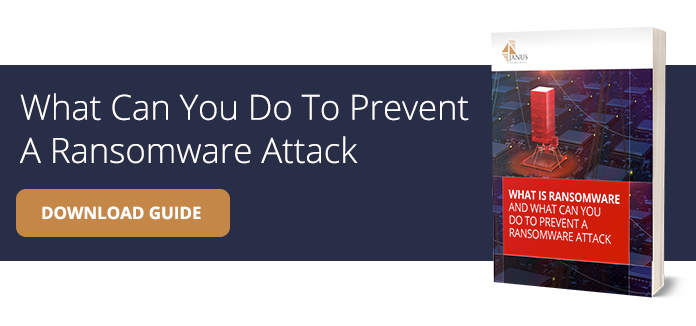 About JANUS Associates
We help organizations meet their goals. JANUS is a vendor-neutral company, supporting only clients' objectives, never specific vendor solutions. Our mission is to serve our clients with high-quality consulting, flexibility to meet changing needs, and services to help you minimize business risks.

Consider having a conversation with a specialist security organization that has deep expertise and understands the challenges that teams face today. With 32+ years of experience, JANUS Associates can help you meet your security, privacy, and compliance goals. Connect with us here.

For more information on the National Cyber Security Alliance, please visit https://staysafeonline.org.